June 2020 section – canceled

Dates: Thursday-Friday, Jun 18 & 19
Time: 8:30am – 4:30pm
Location: 21 N Park St, 1106/1108
Fee: $199 (lunch is on your own)
Register by: Fri, Jun 5
October 2020 section
Dates: Thursday-Friday, Oct 8 & 9
Time: 8:30am – 4:30pm
Location: 21 N Park St, 1106/1108
Fee: $199 (lunch is on your own)
Register by: Fri, Sep 25
Note: The Strong Interest Inventory and the Myers Briggs Type Indicator are taken prior to the attending the workshop. After registering, be sure to check your email for more information about the assessments.
Contact: 608-263-6960; advising@dcs.wisc.edu
Parking: Visitor parking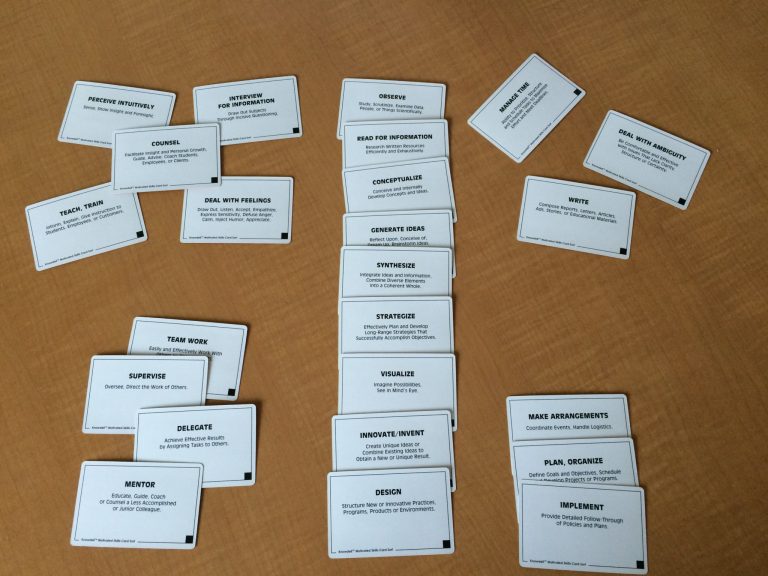 Workshop description
For those at a career crossroads and wanting more intentional career planning, this in-depth workshop provides assessment, structure, and exercises to facilitate the career- and life-planning process. You'll explore your skills, values, interests, and style preferences using the Strong Interest Inventory (SII), Myers-Briggs Type Indicator (MBTI), and other individual/group activities and leave the workshop with an action plan. For individuals at any stage in their career including retirement. Led by experienced career counselors. Some homework between sessions.
What past participants have said
"The opportunity to devote two entire days to thinking about my career plans felt like a gift (and it was!)"
"I didn't expect to be engaged so quickly and completely with the co-participants."
"For anyone who is concerned about taking the time off – do it! It would take weeks (years?) to get there on your own."
"Thank you for helping me find the courage to believe that another life for myself is not only possible, but within reach!"
"I really enjoyed the Tools workshop…the information has opened my eyes to several new possibilities to explore. Thank you for your time and effort."
"You've helped me in 2 days do what I've been trying—unsuccessfully—to do by myself for years."
"The workshop was an excellent combination of lecture and activity with some time to digest the information."
"Thank you for providing a fresh perspective on life/work!"