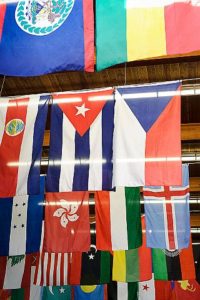 UW–Madison welcomes international students to study as a nondegree University Special student. Learn from world-class faculty at one of the nation's top public research universities! Options include undergraduate and graduate level credit as well as non-credit opportunities. Locate the Special Student type below aligning with your personal, professional and educational goals.
Credit study options
University Special students enroll in regularly scheduled UW–Madison courses for academic credit, but do not earn a degree.
Visiting International Student Program (UIUL, UIGL, UIDL)
As a Visiting International Student, you may study at UW–Madison at the undergraduate, graduate, or dissertator level for one or more semesters. This program is for students not participating in a formal university exchange program.

Formal Exchange Program (UNIS)
As a UNIS student, you may study at UW–Madison as part of a formal exchange program organized through your home university's exchange/study abroad office. UW–Madison has four exchange offices on campus to include business, engineering, law, and international academic programs.

Capstone Certificate (UNCS)
As a UNCS student, you may choose from a variety of graduate-level Capstone Certificates. These certificates allow you to obtain additional professional skills and certification in an easily accessible format designed for nontraditional students and working professionals. Currently, four of these certificates will provide a F-1 visa for study including: Computer Sciences, Actuarial Science, Communication Sciences & Disorders, and Geographic Information Systems. Capstones offered online are also open to International Students if you do not plan to travel to the United States.
Noncredit study options
The Noncredit Visiting International Student Program at the University of Wisconsin-Madison offers students an academically engaging and culturally immersive experience at our world-renowned institution.
Noncredit Visiting International Student Program
Learn more about our existing precollege- or college-level programs that are open to the world, or request a customized noncredit program for your group.