Congratulations!
You are now a University Special high school student. Please complete the orientation and use the resources below to successfully navigate UW–Madison.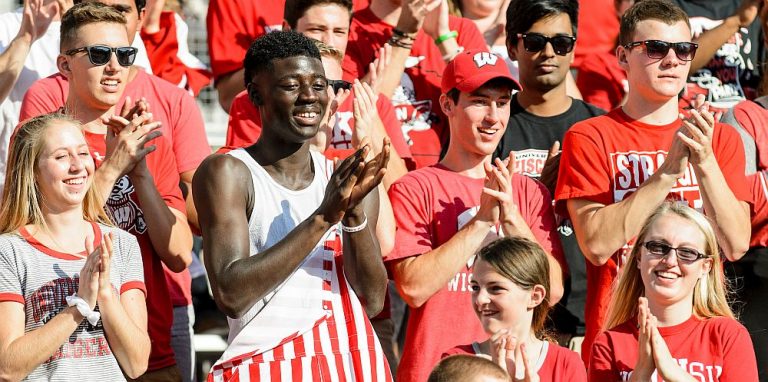 Orientation and resources
Spring 2024 Orientation
All admitted, first-semester high school special students must complete the mandatory orientation and related quiz prior to enrollment. The spring 2024 orientation will be available in early December. Be sure to keep an eye on this page and your email so you know when the orientation becomes available. Once available, you will need to complete the orientation on your own time prior to enrollment.
Enrollment steps
This is an accordion element with a series of buttons that open and close related content panels.
1. Activate your NetID**
Your NetID and the password you create grants you access to your UW-Madison student portal, MyUW. Newly admitted students must activate their NetID using their date of birth and the 10-digit campus ID number found on their admission letter. For step-by-step instructions, use this helpful tutorial.
If you've been a student at UW–Madison previously, but do not recall your NetID and/or password, contact the DoIT Help Desk  for assistance.
2. Log in to MyUW
Log in to MyUW using your NetID and password. Take time to review the resources provided to you, particularly within the Student Center. There you will find details regarding your earliest enrollment date, any enrollment holds on your account, and your tuition bill along with many other helpful resources.
3. View earliest enrollment date
Within your MyUW Student Center, you can view your earliest enrollment date and time. On the right side of the screen, look for the Enrollment Dates heading to find your specific enrollment date.
Note: Special students enroll after degree-seeking students.
4. Search for your course(s)
Log in to your MyUW Student Center using your NetID and password. Select Course Search & Enroll and use this portal to search for classes by term. Click on your desired course to learn more including course description, required prerequisites, textbooks, and course notes. You can find department contact information in the notes section.
Most courses involve both a lecture and a discussion section (and a lab section for lab courses). You will want to make sure that the lecture, discussion, and lab if applicable, are all at times that work for your schedule. Once you find a section that works for you, add the course to your Shopping Cart.
Department information can also be found by using the search function on the UW–Madison homepage. Departments frequently requested by high school students:
5. Validate your course(s)
Before enrolling we recommend you use the My Courses tool within Course Search & Enroll to ensure you are eligible to enroll in your course. Common reasons for getting a "problems with course" message include not meeting requisites for the course or needing permission to take the class.
When courses are in your Shopping Cart, they will appear in My Courses. Select your desired course to determine if you have any validation errors.
The benefit of using this tool is to make sure that you have all the requirements and permissions you need to enroll once your enrollment time arrives. Some classes fill up rapidly, so doing this step ahead of time will help you avoid problems once your enrollment time comes.
If you receive an error message, contact the course department to see if it is possible to get permission to add the course. For more on validation and error messages, see the Office of the Registrar's enrollment webpage.
6. Complete orientation**
Newly admitted high school students are required to complete an online orientation prior to enrollment. The orientation is an opportunity for students (and their parents/guardians) to learn more about enrollment, taking classes, exams, resources, and more.
Reminder: continuing high school students are not required to complete the orientation.
7. Enroll
Anytime after your enrollment appointment time, you can begin enrolling in your course. In the My Courses portion of Course Search & Enroll, select your desired course and click Enroll. Follow the onscreen prompts to complete your enrollment. If a section is full and a wait list is available, continue to enroll in the course to secure your spot on the wait list.
For additional enrollment help, visit the Office of the Registrar's enrollment overview webpage.
8. Attend class!
In your Student Center, check to see when your class meets for the first time and confirm you know where it meets. It is important to attend all class lectures, discussions, and labs (if applicable) to get the full benefit from the class, plus your grade will likely depend on it!
Don't be shy about introducing yourself to the professor and TA near the beginning of the term. They don't bite and it will help you feel more comfortable asking for help if you find you need it as the class progresses.
Have fun and enjoy the class!
9. Plan ahead for next semester
You're eligible to continue as a High School Special student for subsequent terms if you successfully complete your current UW-Madison course in good standing, maintain a high school GPA of 3.0 overall and in the most recent semester, and have not graduated from high school.
Continuing students must complete another Special student application and submit the supplemental materials. Follow the application process below.
Talk with your high school guidance counselor to determine if continuing in the Early College Credit Program (ECCP) or as a High School Special is a good fit for you. Your counselor will consider how your desired UW-Madison courses align with your academic plans and if you meet the prerequisites.
Complete the Special student application
Complete the ECCP and High School Special Agreement form (PDF), and submit it to your school officials.
Submit,  or have your high school submit the following materials via email to highschoolcredit@dcs.wisc.edu:

Your most recent, official high school transcript
An unofficial copy of your AP Calculus B/C exam score of 4 or higher (only if you intend to enroll in Math 234)
Deadlines: Steps 1 and 2 must be completed by March 1 for summer/fall terms and October 1 for spring term. Step 3 must be completed by June 15 for fall term, December 1 for spring term, and May 1 for summer term.
Your materials will be reviewed by an advisor, and you will be notified via email if you're approved to continue as a high school Special student for the following semester.
** only newly admitted students must complete this step