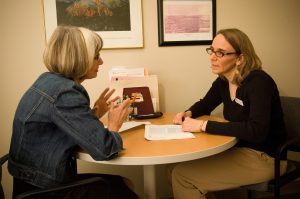 UW–Madison is committed to assisting all employees develop their careers.
Individual career counseling is available for all UW–Madison employees.

Contact us to schedule an appointment.
608-263-6960
info@dcs.wisc.edu 
This is an accordion element with a series of buttons that open and close related content panels.
Confidentiality statement
Adult Career and Special Student Services (ACSSS) is committed to protecting our clients' right to privacy. Confidentiality means that, with few exceptions, information shared with your counselor will not be disclosed to anyone outside our office's professional staff without your written permission. Your information will have no connection to your UW–Madison employee record. Your counselor may seek consultation and supervision from other professionals within the institution. Our staff may include a graduate student intern, supervised by the counselor and by a member of their university department's faculty. The intern may also seek supervision from their university supervisor.
At ACSSS, we are legally and ethically bound to break confidentiality when not doing so might result in physical harm to you or another person. We are required by law to break confidentiality if we suspect abuse or neglect of a child or of an incapacitated adult.  Also, in the extremely unlikely circumstance that a court orders us to release information, Wisconsin State Law requires we do so.
To ensure confidentiality, career counseling appointments include the client and the counselor.  Because this is your career and education planning time, we do not usually include other family members or friends in our sessions. If you have reason to have another person in session, please discuss this with your counselor prior to your appointment.
If you have questions about confidentiality, other ACSSS policies or procedures, or the types of services we offer, please ask us during your initial appointment.
What to expect
Meet your career counselor
Meet your career counselor: April McHugh has been working at UW–Madison for over 10 years and with adults in career transition for over 20 years providing career, personal, and education counseling.  She has a master's in guidance and counseling, is licensed as a professional counselor (LPC) and nationally certified as a counselor (NCC).  She believes in the potential of every employee, and looks forward to working with you on your career and personal development!
Testimonials
"April was wonderful. She listened and gave me great advice. I felt so much better after talking to her. I was to a point I thought getting a new job was hopeless. She allowed me to feel my loss and helped me pull up my boot straps and make something happen. I am so grateful to have had her in my corner."
"April is always very helpful and willing to talk through things, no matter what. That creates a very inviting and encouraging experience."
"She listened to the issues, addressed each of them in the short time period, and had action steps for moving me forward. Appreciated her professional and efficient approach. I was entirely satisfied with how the appointment was conducted and the results."
"Very attentive and was great at providing insights into how to evaluate my options, helped me see what obstructions I was placing on my own ambitions, and was very encouraging of following my interests."
"April listened and responded to my specific situation/concerns, which I deeply appreciated. She engaged with me as a whole human being (and not a resume), my complex needs and wants, my life as she offered thoughtful comments and guidance. She was wonderful at encouraging me to brainstorm about other possibilities."
Canceling/rescheduling
Career counseling appointments are in high demand. Late cancellations and no-shows make it impossible to offer your time to another client. Please be courteous and make every effort to attend your appointment or cancel in a timely manner.
If you are running late for your appointment please call April at 608-262-2683 to let her know.
Clients who are unable to keep scheduled appointments are expected to call one (1) business day before their appointment to cancel or reschedule.
Please understand that multiple cancellations and/or no-shows may result in loss of access to future appointments. If you have questions regarding this policy, please contact our office at advising@dcs.wisc.edu or 608-263-6960.