Connect to career events, jobs, and internships
Handshake can help you connect with employers and jobs. With Handshake you can:
Explore thousands of jobs and internships from 200,000+ employers nationwide
Get personalized recommendations based on your program, interests, and more
Manage your own interviews with top employers
Browse and register for career events on campus
Your profile has been preloaded to get you started. Please note that your profile's default setting is set to "hidden." Employers, alumni, and students won't be able to see anything until you choose to unhide your profile.
Questions?
See the Help Resources below or contact Adult Career and Special Student Services.
Does it pay for alumni and Capstone students to use Handshake?
YES! Employers in Handshake are looking for all types of candidates, not only recent college grads. So join today!
Here's how:
Read the Student Terms of Use.
Activate your account by clicking the blue button or entering your wisc.edu email address.
Complete your profile and start exploring!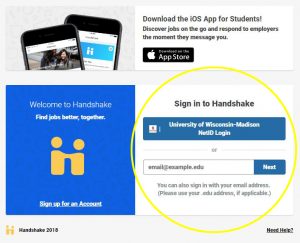 Tips for a great profile
Currently your profile includes your name, GPA, major, and dates of attendance (and graduation date for alumni). Add your work experience, skills, courses, and additional information to ensure employers understand your background. Use your resume to populate the fields on Handshake, to save time. Review all entries before approving them for your Handshake profile.
Upload documents that highlight your skills. These can be reports, presentations, or writing samples from a class or from your work. You can also post links to any projects (publications, photos, presentations, websites, etc.) that have a URL.  Think of your profile as a portfolio demonstrating your qualifications.
Consider adding a professional photo to your profile.
Include a link to your LinkedIn profile (if you don't have a LinkedIn profile, now is the time to develop one).
Build in time to your schedule to review and make changes to your profile. The end of each semester is a good time to make updates.
Use the progress bar to monitor how complete your profile is.
Make your profile public so employers can find you!
Capstone certficate information for employers
UW-Madison offers several Capstone certificate programs in a variety of fields. To learn more about the specific programs visit our Professional degrees and certificates website.
What is a Capstone certificate?
Capstone certificates are a focused collection of courses in a given discipline or set of related disciplines. Capstone certificate programs do not lead to the conferral of a degree but are recorded as a completed certificate on the student's UW-Madison transcript.
Who completes a Capstone certificate?
Capstone certificates offer innovative programs that serve the educational needs of specialized groups of nontraditional students and working professionals. Students in Capstone programs:
have completed a minimum of a baccalaureate degree; some certificates require a master's or other advanced degree
seek capstones to enhance prior training
are often professionals returning to school for specialized education and skill building
What are the benefits of hiring a Capstone certificate holder?
World-class faculty teach our UW-Madison Capstone certificate program courses.
Capstone certificate holders typically have professional work experience in addition to bachelor's and in some cases master's or professional degrees.
Individuals who decide to complete a Capstone certificate are lifelong learners who want to be on the cutting edge of developments in their fields.
Information about recruiting Capstone certificate students